An updated list of events, upcoming, current and past in which I'm involved. If you want to see a show of my work, here's the place to come to find one.
Page 1
February 2019
Solo exhibition at The Triton Museum of Art, Santa Clara, California. (2019? Yes: museums plan their exhibits out several years in advance.)

Feb 25 – Apr 04, 2017
Center for Photographic Art, Carmel, CA. Single image in a show of and for the 20th anniversary of The ImageMakers, a group founded by one of Ansel Adams' original review gathering, Richard Garrod.

Oct 4 – Dec 3, 2016
Monterey Peninsula College Art Gallery. This will be interesting: a two-person show. My wife and myself. Nora is an established and recognized traditional print maker (not photography) and the show will highlight how two artists in intimate residence influence and affect each other's work. Cleverly enough, we're calling it "Artists in Residence."

Sept 17 – Nov 6, 2016
Annual Invitational 8 x 10 show at the Center for Photographic Art, in Carmel, CA. This year's image is "Vintage" (aka "house on River Road").
Aug. 8 – Sept 30, 2016
4 images at the Carmel Valley Manor Gallery, Carmel, CA.

November 21, 2015 – Jan 9, 2016
My image "The Flowerbox" was selected by juror Robert Hirsch (yes-
that
Robert Hirsch
) for the 2015 International Juried Exhibition at The Center for Photographic Art, in Carmel, CA.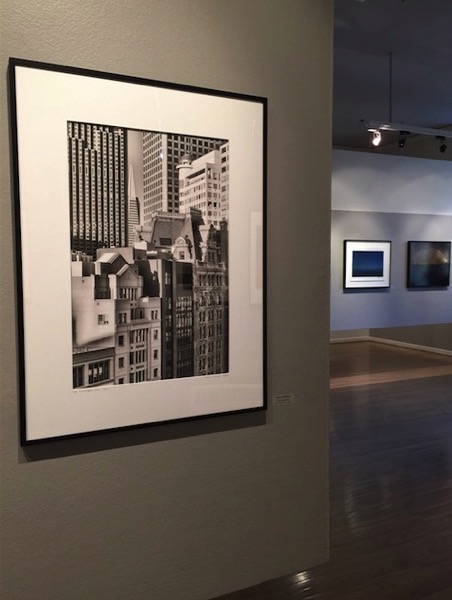 JANUARY 21, 2016
I'll be giving a talk at the Center for Photographic Art from 6:30 to 8 PM. (I don't expect the talk to last all 90 minutes, so there will be plenty of time for conversation.)


"Yeah…But is It ART?" "Photography as art has been on a path of accelerating change for the past century, and there is no slowdown in sight. From Alfred Stieglitz to Ansel Adams, Cindy Sherman through Kate Steciw, on into the cell-phone age, looking at and understanding photographs requires keeping up with the pace. CPA member/photographer Tracy Valleau has recently investigated all this, and will share his journey of discovery from modernism to contemporary art as it applies to photography. In this illustrated talk, Tracy will offer some basic concepts and tools to use when viewing photographs as art."


Jan 22- The talk was well received and well attended, I'm pleased to say: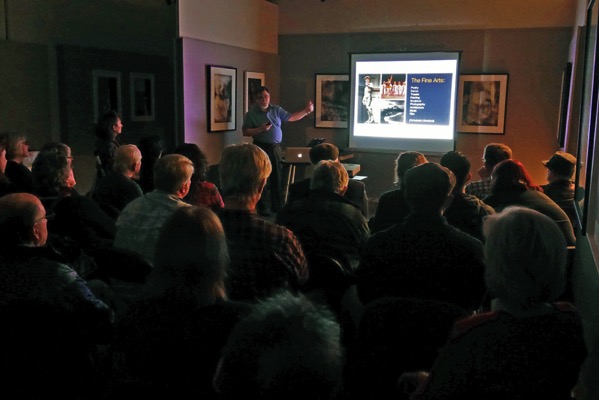 Sept 26 – Nov 14, 2015
Two images in the Center for Photographic Art's annual 8 x 10 show. (http://photography.org)

July 18- September 9
A show with three friends at The Triton Museum of Art, San Jose. (http://www.tritonmuseum.org/exhibitions_lens_of_four.php)

July 25 – Sept 19, 2015
An image ("Relic") from the Minutiae series in the Center for Photographic Art's annual Juried Exhibition. (http://photography.org)
July 10 – Aug 9, 2015
Two of my "Minutiae" images have been juried into a national competition, "Through a Curious Lens" at the Santa Cruz Art League.
The show will run from July 10 thru August 9, 2015, at the SCAL.
The reception is Saturday, July 18 from 3:00 to 5:00 PM.
Santa Cruz Art League
526 Broadway
Santa Cruz, CA 95060
831-426-5787
June 19-20, 2015
Juried art auction.
"We are writing to inform you that the Inaugural Juried Art Auction Guest Jurors have completed their task of reviewing 208 pieces of art submitted by 112 artists, and we are happy to report that your work, "Yang", was chosen to be included in the Gala Event Silent Auction. The Gala Event will take place on Friday, June 19, from 6:00 to 9:00 p.m. at Sunset Center, Carmel."
http://artshabitat.org
Swing by if you can. Bring your checkbook for a worthy cause.
April 21, 2015
Two of my images ("Pearls" and "Flight") were finalists ("nominees") in the 8th Annual International Color Awards. There were 7,358 entires.
The Jury represented the industry's biggest names and tastemakers including Christie's, Frieze, Whitechapel Gallery, Eyestorm, Edinburgh Film Festival, DB Agency, Gup Magazine and Art Beatus Gallery.
Sept 7 – Jan 5, 2015
I'm both curating and participating in "@MoM" a show by the ImageMakers of Monterey.
Museum of Monterey
Custom House Plaza
Monterey, CA
http://museumofmonterey.org/the-image-makers-of-monterey/
August 1 – August 28, 2014
Auto Erotica (several artists)
Carl Cherry Center
Carmel, CA
http://www.carlcherrycenter.org/pages/visit/gallery/gallery.html
June 6 – July 18, 2014
Figure and Ground (several artists)
Carl Cherry Center
Carmel, CA
http://www.carlcherrycenter.org/pages/visit/gallery/gallery.html
April 30 – May 29, 2014
ImageMakers
Opening reception: May 9, 7:00 – 8:30 PM
Avery Gallery
Seaside City Hall, Seaside, CA
March 21 – April 29, 2014
Myself, Ken Parker, Stephanie Esta, and Sam Farr
Opening reception: March 21 and April 4 (yep: two of them)
RBlitzer Gallery
http://rblitzergallery.com/
Santa Cruz
Jan 22, 2014
I judged the annual B&W competition for the Padre Trails Camera Club, and tonight we'll be revealing the results and discussing the member's images. 7-9PM. Hilltop Center. Devisadero St. Monterey.
Jan 15, 2014
Print reviews at the Center for Photographic Art
6PM – 9PM
Jan 11, 2014
Conclusion of the 2013 Juried Exhibition at the Center for Photographic Art. I was coordinator for this annual event, and the new show was revealed this evening, after a talk by Diana Daniels, Curator of Photography at The Crocker Museum.
Nov 1, 2013 – Jan 3, 2014
Show:
A modest show with Ken Parker and Steve Zmak at:
The Sunset Center
Carmel CA
Opening reception: Nov 1, from 4 – 7 PM.
October 18-20, 2013
I'll be speaking at
Photographer's Rendezvous
http://www.photographersrendezvous.com/
King City, CA
PREVIOUS SHOWS
14-07-13 02:29 Filed in:
Uncategorized
"individual Cases"
Annand Gallery
Pacific Grove Art Center
July 19 – August 29, 2013
Monterey County Health Center
June 2012 – Jun 2013
The Government Center
Salinas, California
Nov 2011 to Nov 2012
Arts Council for Monterey County
2013 calendar
National Steinbeck Center
Carmel Art Institute
(www.carmelartinstitute.com)
Unique Images – Shared Vision
Pacific Grove Art Center
Center for Photographic Art
Juried Exhibit
Miniatures
Monterey Museum of Art
Luminosity – The art of ImageMaking
Center for Photographic Art